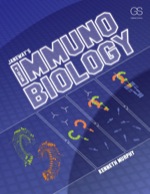 downloadable eBook price:
$

95

.

00

USD
you save:
$

40

.

00

USD
( 30% )
add to cart
This title is being sold in the downloadable VitalBook™ format.
Janeway's Immunobiology is a textbook that introduces the immune system in all its aspects to undergraduates, and also provides a treatment of the subject that is comprehensive enough to be useful to graduate students interested in research, and to medical students focused on clinical applications. The Eighth Edition has been thoroughly revised and updated. Janeway's Immunobiology continues to set the standard for currency and authority with its clear writing style and organization, uniform art program, and scientific accuracy. It presents a consistent point of view throughout—that of the host's interaction with an environment containing many species of potentially harmful microorganisms. The full-color art program is conceptually coherent and illustrates the processes and mechanisms underlying the concepts in the text. The 16 chapters in this readable, accessible textbook are organized and presented in such a way as to help deliver a complete one-semester immunology course, beginning with innate immunity, then moving to adaptive immunity, and ending with applied clinical immunology.
Chapters for Purchase
Chapter 01 - Basic Concepts in Immunology (Janeway's Immunobiology, Eighth Edition)

$

9

.

00

USD
add to cart
Chapter 02 - Innate Immunity: The First Lines of Defense (Janeway's Immunobiology, Eighth Edition)

$

9

.

00

USD
add to cart
Chapter 03 - The Induced Responses of Innate Immunity (Janeway's Immunobiology, Eighth Edition)

$

9

.

00

USD
add to cart
Chapter 04 - Antigen Recognition of B-cell and T-cell Receptors (Janeway's Immunobiology, Eighth Edition)

$

9

.

00

USD
add to cart
Chapter 05 - The Generation of Lymphocyte Antigen Receptors (Janeway's Immunobiology, Eighth Edition)

$

9

.

00

USD
add to cart
Chapter 06 - Antigen Presentation to T Lymphocytes (Janeway's Immunobiology, Eighth Edition)

$

9

.

00

USD
add to cart
Chapter 07 - Signaling Through Immune System Receptors (Janeway's Immunobiology, Eighth Edition)

$

9

.

00

USD
add to cart
Chapter 08 - The Development and Survival of Lymphocytes (Janeway's Immunobiology, Eighth Edition)

$

9

.

00

USD
add to cart
Chapter 09 - T Cell-Mediated Immunity (Janeway's Immunobiology, Eighth Edition)

$

9

.

00

USD
add to cart
Chapter 10 - The Humoral Immune Response (Janeway's Immunobiology, Eighth Edition)

$

9

.

00

USD
add to cart
Chapter 11 - Dynamics of Adaptive Immunity (Janeway's Immunobiology, Eighth Edition)

$

9

.

00

USD
add to cart
Chapter 12 - The Mucosal Immune System (Janeway's Immunobiology, Eighth Edition)

$

9

.

00

USD
add to cart
Chapter 13 - Failures of Host Defense Mechanisms (Janeway's Immunobiology, Eighth Edition)

$

9

.

00

USD
add to cart
Chapter 14 - Allergy and Allergic Diseases (Janeway's Immunobiology, Eighth Edition)

$

9

.

00

USD
add to cart
Chapter 15 - Autoimmunity and Transplantation (Janeway's Immunobiology, Eighth Edition)

$

9

.

00

USD
add to cart
Chapter 16 - Manipulation of the Immune Response (Janeway's Immunobiology, Eighth Edition)

$

9

.

00

USD
add to cart
The Immunologist's Toolbox (Appendix I)

$

9

.

00

USD
add to cart
License Rules
Online License Type: Expires 365 days after registration
Downloadable License Type: Perpetual License
Table of Contents
Table of contents is not available