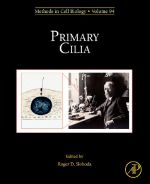 This title is being sold in the downloadable VitalBook™ format.
In recent years, the role of cilia in the study of health, development and disease has been increasingly clear, and new discoveries have made this an exciting and important field of research. This comprehensive volume, a complement to the new three-volume treatment of cilia and flagella by King and Pazour, presents easy-to-follow protocols and detailed background information for researchers working with cilia and flagella.
*Covers protocols for primary cilia across several systems and species * Both classic and state-of-the-art methods readily adaptable across model systems, and designed to last the test of time * Relevant to clinicians and scientists working in a wide range of fields
This title will only allow printing of 10 consecutive pages and copying of 10 consecutive pages at a time.
License Rules
Online License Type: Expires 365 days after registration
Downloadable License Type: Perpetual License
Table of Contents
Table of contents is not available