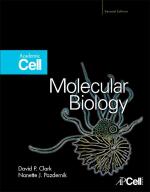 This title is being sold in the downloadable VitalBook™ format.
The second edition of Molecular Biology effectively introduces major concepts of cell structure and genetics, followed by a survey of DNA, RNA, and proteins, and how they interact to provide the cell with genetic information. This thorough update also reflects the recent, massive surge in our understanding of the molecular foundations of genetics via scientific revolutions in genetics and computer technology.
This enhanced ebook goes far beyond the flowing text, annotation, and hyperlinking available in most ebooks. Unique features include interactive quizzes, narrated animations, and 62 full-text journal articles, all in one downloadable package. By combining primary literature, a fundamental text, and interactive features, Molecular Biology, Second Edition provides an encompassing, cohesive learning experience.
Winner of a 2013 Texty Award from the Text and Academic Authors Association
Includes interactive elements for enhanced student understanding and self-testing; animations to clarify complex content; and study guides equipped with full-text Cell Press journal articles
New to second edition: updated chapters on genomics and systems biology; proteomics; bacterial genetics; and molecular evolution and

RNA

Fully revised art
This title will only allow printing of 2 consecutive pages and copying of 2 consecutive pages at a time.
License Rules
Online License Type: Expires 365 days after registration
Downloadable License Type: Perpetual License
Table of Contents
Table of contents is not available