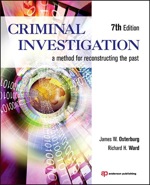 This title is being sold in the downloadable VitalBook™ format.
The seventh edition of Criminal Investigation presents the fundamentals of criminal investigation and provides a sound method for reconstructing a past event (i.e., a crime) based on three major sources of information - people, records, and physical evidence. In addition to covering fundamental practices such as surveillance, interrogation and eyewitness identification, this volume is updated with the latest techniques available. Special topics in terrorism, organized crime, and white-collar crime round out this complete guide to the discipline of criminal investigation practice. This enhanced eBook combines the depth of information found in the traditional textbook, while providing additional hands-on features that will help readers understand and retain key concepts. This enhanced eBook goes far beyond the flowing text, annotation, and hyperlinking available in most ebooks.
Providing a learning experience above and beyond that of a traditional textbook, the enhanced eBook publication of Criminal Investigation is an innovative approach to an important topic in criminal justice and investigation.
Unique features include:
o Interactive key witness interview that allows users to choose which questions to ask.
o Interactive crime scene simulation including questions based on the evidence viewed.
o Interactive labeling images with drag and drop terms.
o Interactive multiple choice and true false questions at the end of every chapter.
o Case studies to encourage the reader to engage in critical thinking.
o Pop-up glossary that allows keywords to connect directly to the glossary and definitions to be viewed without leaving the screen.
This title will only allow printing of 2 consecutive pages and copying of 2 consecutive pages at a time.
License Rules
Online License Type: Expires 365 days after registration
Downloadable License Type: Perpetual License
Table of Contents
Table of contents is not available