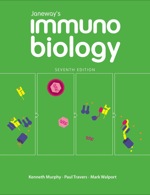 downloadable eBook price:
$

91

.

00

USD
you save:
$

39

.

00

USD
( 30% )
add to cart
This title is being sold in the downloadable VitalBook™ format.
Janeway's Immunobiology, Seventh Edition is an introductory text for use in immunology courses for undergraduates, graduate students and medical students. It guides the reader through the immune system in all its aspects - from the first engagement of innate immunity to the generation of the adaptive immune response and its clinical consequences. The Seventh Edition has been comprehensively updated throughout, and includes new information on topics such as NK cells, Toll-like receptors, AID, viral evasions, mucosal immunity, and celiac disease, to name a few. Janeway's Immunobiology continues to set the standard for currency and authority with its clear writing style and organization, full-color art program, scientific accuracy and consistent viewpoint - that of the host's interaction with an environment containing many species of potentially harmful microorganisms.
This title will only allow printing of 2 consecutive pages and copying of 2 consecutive pages at a time.
License Rules
Online License Type: Expires 365 days after registration
Downloadable License Type: Perpetual License
Table of Contents
Table of contents is not available