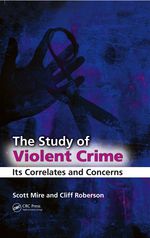 This title is being sold in the downloadable VitalBook™ format.
Violence is a complex subject that is rooted in a multitude of disciplines, including not only criminology but also psychology, sociology, biology, and other social science disciplines. It is only through understanding violence as a concept that we can hope to respond to it appropriately and to prevent it. The Study of Violent Crime: Its Correlates and Concerns is a comprehensive text that provides a current analysis of violence and violent crime in the United States.
Topics discussed include:
The history of violence in Europe and America
Whether violent behavior can be predicted
Possible correlates of violence, including values, poverty, low education, abuse and neglect, alcohol abuse, and shame
Sociological theories surrounding crime causation, including social control, conflict and strain, and anomie
Psychological approaches to understanding violence from Freud, Bentham, Skinner, and others
Biological theories and the influence of positivism and determinism
The role of early exposure to violence on future behavior and programs to counteract these effects
Gang activity and hate crimes
The history of punishment and its effectiveness
Victimology and victimization
Organized in logical fashion, each chapter builds on previous ones and makes use of concrete examples to clarify concepts. Action boxes help readers focus on salient points and review questions appear at the end of each chapter, enabling readers to test their assimilation of the material.
This title will only allow printing of 2 consecutive pages and copying of 2 consecutive pages at a time.
License Rules
Online License Type: Expires 365 days after registration
Downloadable License Type: Perpetual License
Table of Contents
Table of contents is not available