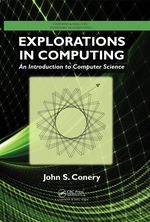 downloadable eBook price:
$

58

.

77

USD
you save:
$

25

.

18

USD
( 30% )
add to cart
This title is being sold in the downloadable VitalBook™ format.
This text offers insight into how computation is used to solve a variety of interesting and important real-world problems. Taking an active learning approach that uses hands-on projects to teach computer science concepts and applications, the text encourages students to explore computing ideas by running programs and testing them on different inputs. It requires no prior experience with programming and includes a set of exercises at the end of each chapter, with selected solutions in an appendix. A lab manual for Ruby and RubyLabs and links to the latest versions of the software are available on the book's website.
This title will only allow printing of 2 consecutive pages and copying of 2 consecutive pages at a time.
License Rules
Online License Type: Expires 365 days after registration
Downloadable License Type: Perpetual License
Table of Contents
Table of contents is not available