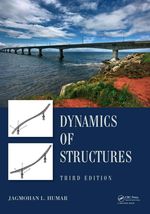 This title is being sold in the downloadable VitalBook™ format.
This major textbook provides comprehensive coverage of the analytical tools required to determine the dynamic response of structures. The topics covered include: formulation of the equations of motion for single- as well as multi-degree-of-freedom discrete systems using the principles of both vector mechanics and analytical mechanics
This title will only allow printing of 2 consecutive pages and copying of 2 consecutive pages at a time.
License Rules
Online License Type: Expires 365 days after registration
Downloadable License Type: Perpetual License
Table of Contents
Table of contents is not available