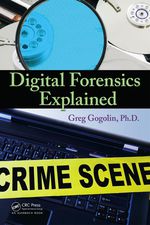 This title is being sold in the downloadable VitalBook™ format.
The field of computer forensics has experienced significant growth recently and those looking to get into the industry have significant opportunity for upward mobility. Focusing on the concepts investigators need to know to conduct a thorough investigation,* Digital Forensics Explained* provides an overall description of the forensic practice from a practitioner's perspective.
Starting with an overview, the text describes best practices based on the author's decades of experience conducting investigations and working in information technology. It illustrates the forensic process, explains what it takes to be an investigator, and highlights emerging trends. Filled with helpful templates and contributions from seasoned experts in their respective fields, the book includes coverage of:
Internet and email investigations
Mobile forensics for cell phones, iPads, music players, and other small devices
Cloud computing from an architecture perspective and its impact on digital forensics
Anti-forensic techniques that may be employed to make a forensic exam more difficult to conduct
Recoverability of information from damaged media
The progression of a criminal case from start to finish
Tools that are often used in an examination, including commercial, free, and open-source tools
This title will only allow printing of 2 consecutive pages and copying of 2 consecutive pages at a time.
License Rules
Online License Type: Expires 365 days after registration
Downloadable License Type: Perpetual License
Table of Contents
Table of contents is not available