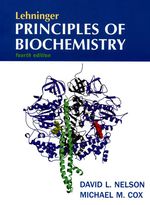 downloadable eBook price:
$

137

.

95

USD
you save:
$

23

.

00

USD
( 14% )
add to cart
This title is being sold in the downloadable VitalBook™ format.
Lehninger Principles of Biochemistry, Fourth Edition presents the fundamentals of biochemistry through selected topics, incorporating the most important recent developments and applications into its singular presentation of the field's classic core.
License Rules
Online License Type: Expires 365 days after registration
Downloadable License Type: Perpetual License
Table of Contents
Front Matter
chapter 1 THE FOUNDATIONS OF BIOCHEMISTRY
chapter 2 WATER
chapter 3 AMINO ACIDS, PEPTIDES, AND PROTEINS
chapter 4 THE THREE-DIMENSIONAL STRUCTURE OF PROTEINS
chapter 5 PROTEIN FUNCTION
chapter 6 ENZYMES
chapter 7 CARBOHYDRATES AND GLYCOBIOLOGY
chapter 8 NUCLEOTIDES AND NUCLEIC ACIDS
chapter 9 DNA-BASED INFORMATION TECHNOLOGIES
chapter 10 LIPIDS
chapter 11 BIOLOGICAL MEMBRANES AND TRANSPORT
chapter 12 BIOSIGNALING
chapter 13 PRINCIPLES OF BIOENERGETICS
chapter 14 GLYCOLYSIS, GLUCONEOGENESIS, AND THE PENTOSE PHOSPHATE PATHWAY
chapter 15 PRINCIPLES OF METABOLIC REGULATION: GLUCOSE AND GLYCOGEN
chapter 16 THE CITRIC ACID CYCLE
chapter 17 FATTY ACID CATABOLISM
chapter 18 AMINO ACID OXIDATION AND THE PRODUCTION OF UREA
chapter 19 OXIDATIVE PHOSPHORYLATION AND PHOTOPHOSPHORYLATION
chapter 20 CARBOHYDRATE BIOSYNTHESIS IN PLANTS AND BACTERIA
chapter 21 LIPID BIOSYNTHESIS
chapter 22 BIOSYNTHESIS OF AMINO ACIDS, NUCLEOTIDES, AND RELATED MOLECULES
chapter 23 HORMONAL REGULATION AND INTEGRATION OF MAMMALIAN METABOLISM
chapter 24 GENES AND CHROMOSOMES
chapter 25 DNA METABOLISM
chapter 26 RNA METABOLISM
chapter 27 PROTEIN METABOLISM
chapter 28 REGULATION OF GENE EXPRESSION
Appendix A Common Abbreviations in the Biochemical Research Literature
Appendix B Abbreviated Solutions to Problems
Credits
Glossary