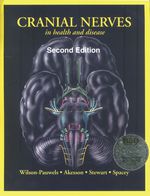 This title is being sold in the downloadable VitalBook™ format.
This second edition presents a thorough revision of Cranial Nerves. The format reflects the shift in teaching methods from didactic lectures to problem-based learning. It maintains the first edition's approach of blending the neuro- and gross anatomy of the cranial nerves as seen through color-coded functional drawings of the pathways from the periphery of the body to the brain (sensory input), and from the brain to the periphery (motor output).
The content is targeted to students of the health sciences who may be studying neuroanatomy and gross anatomy for the first time. It will prove to be a valuable quick reference for residents in neurology, neurosurgery, otolaryngology, and maxillofacial surgery.
License Rules
Online License Type: Expires 365 days after registration
Downloadable License Type: Perpetual License
Table of Contents
Front Matter
Introduction
I Olfactory Nerve
II Optic Nerve
III Oculomotor Nerve
IV Trochlear Nerve
V Trigeminal Nerve
VI Abducens Nerve
VII Facial Nerve
VIII Vestibulocochlear Nerve
IX Glossopharyngeal Nerve
X Vagus Nerve
XI Accessory Nerve
XII Hypoglossal Nerve
13 Coordinated Eye Movements
Back Matter