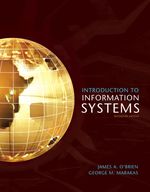 downloadable eBook price:
$

87

.

75

USD
you save:
$

71

.

63

USD
( 45% )
add to cart
This title is being sold in the downloadable VitalBook™ format.
O'Brien's Introduction to Information Systems, 13e continues to reflect the movement toward enterprise-wide business applications. George Marakas from the University of Kansas joins as a co-author on this new edition. New real world case studies correspond with this curriculum shift. The text's focus is on teaching the general business manager how to use and manage the most current IT technologies such as the Internet, Intranets, and Extranets for enterprise collaboration, and how IT contributes to competitive advantage, reengineering business processes, problem solving, and decision-making. Students that choose the VitalBook version of this title have access to powerful digital learning tools. Students can share notes with others, customize the appearance and layout of the content, and organize all their digital course materials from a single program. VitalSource is a downloadable eBook. Students can install their eBook on up to two machines. Students can also print sections of the book for maximum portability.
This title will only allow printing of 2 consecutive pages and copying of 2 consecutive pages at a time.
License Rules
Online License Type: Expires 365 days after registration
Downloadable License Type: Perpetual License
Table of Contents
Front Matter
FOUNDATION CONCEPTS
CHAPTER 1 FOUNDATIONS OF INFORMATION SYSTEMS IN BUSINESS
CHAPTER 2 COMPETING WITH INFORMATION TECHNOLOGY
INFORMATION TECHNOLOGIES
CHAPTER 3 COMPUTER HARDWARE
CHAPTER 4 COMPUTER SOFTWARE
CHAPTER 5 DATA RESOURCE MANAGEMENT
CHAPTER 6 TELECOMMUNICATIONS AND NETWORKS
BUSINESS APPLICATIONS
CHAPTER 7 ELECTRONIC BUSINESS SYSTEMS
CHAPTER 8 ELECTRONIC COMMERCE SYSTEMS
CHAPTER 9 DECISION SUPPORT SYSTEMS
DEVELOPMENT PROCESSES
CHAPTER 10 DEVELOPING BUSINESS/IT SOLUTIONS
MANAGEMENT CHALLENGES
CHAPTER 11 SECURITY AND ETHICAL CHALLENGES
CHAPTER 12 ENTERPRISE AND GLOBAL MANAGEMENT OF INFORMATION TECHNOLOGY
Review Quiz Answers
Glossary for Business Professionals
Selected References